Zabaware releases new Ultra Hal 7.5 Beta
Powered by OpenAI GPT-3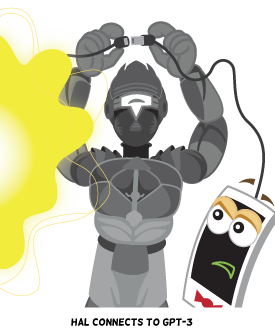 February 1, 2021
Zabaware is excited to announce the release of the newest version of its popular entertainment chatbot, Ultra Hal, now powered by OpenAI's GPT-3 language model. Ultra Hal is an entertainment chatbot utilizing advanced artificial intelligence technology that can be a fun companion to its users. It learns from past conversations and over time develops similar interests to its user. It uses interactive animated characters and realistic speech synthesis to provide an engaging and immersive experience.
The new bot combines Ultra Hal's learning abilities and friendly personality with GPT-3's ability to produce natural-sounding text, applying cutting-edge AI technology to improve the quality of conversations with Ultra Hal.
"During the past few months, we've been working with the OpenAI API to incorporate GPT-3 into Ultra Hal," said Zabaware President Robert Medeksza. "We are excited about the results, we feel that GPT-3 has the potential to be a game changer for our chat bots. It gives the chat bot an ability to engage in real conversations with users in a way that's not really been possible before."
The new bot is immediately available as a beta version for Windows 10 PCs. A version of the new bot for Android and IOS devices will be released later in the year.
In addition to being the creator of the Ultra Hal bot, Zabaware is also publisher of
Artificial-Intelligence Comics.
The comic strip features characters from the Ultra Hal chatbot and explores many topics in AI. Coinciding with the release of the Ultra Hal bot powered by OpenAI are comic strips written with the aid of the GPT-3 language model. From now on the comic strip will be written about artificial intelligence, by artificial intelligence. They are freely available to view at
www.artificial-intelligence.com.
---
Get Ultra Hal 7.5 beta powered by OpenAI GPT-3
Download New Beta Available for Windows 10 Computers
1000 free neural network credits will be given to all new users after validating an email address. Once depleted, additional usage credits are available for sale.
Waiting List for Mobile Android and IOS Versions
Currently the Ultra Hal 7.5 beta with GPT-3 Powered by OpenAI is only available for Windows 10. We are actively working on mobile versions for IOS and Android which should be available by Q3 2021. Sign up with your name and email below and we'll send you an invite once these versions are available.
News
New Ultra Hal 7.5 Beta with GPT-3
Zabaware releases new Ultra Hal 7.5 Beta Powered by OpenAI GPT-3 (read more)
Hal plays role in Prometheus movie
Zabaware's AI software was used in the Secret Cinema production of Prometheus. (read more)
Open source 3D character engine project
Help support our efforts in the next generation character animation tech. (read more)
Hal Learns and Interacts on Twitter
Hal learns to be more human-like by observing people interact on Twitter. (read more)
Hal Joins Facebook as Teachable App
Watch Hal grow and evolve while he interacts with your Facebook friends. (read more)
Hal Joins Second Life Metaverse as Resident
Watch Hal trying to interact socially with unsuspecting groups of people. (read more)
Zabaware Wins Loebner Prize for AI
Ultra Hal wins "most human" prize in the 17th annual Loebner Prize. (read more)