Download Ultra Hal 7.5 Beta
Get Ultra Hal 7.5 beta powered by OpenAI GPT-3
Download Ultra Hal 7.5 Beta
Requirements:

Windows 10 PC (Android and IOS will be available Q3 2021)
GPT-3 powered brain requires usage credits, 1000 credits provided free, additional credits available for purchase
As this is a beta product, service interuptions or software errors may occur. Please report issues on our forum

Download Now (EXE)
Download Now (ZIP) (If your browser blocks EXE)
After downloading, please launch the Install_Ultra_Hal_7.5.exe file and follow the on screen instructions. If you get a Windows Smart Screen notification, follow the instructions below.
Windows Smart Screen
As this is a new beta product and may have frequent updates, Windows Defender SmartScreen may not recognize the app yet as a trusted app. You may get a warning such as this: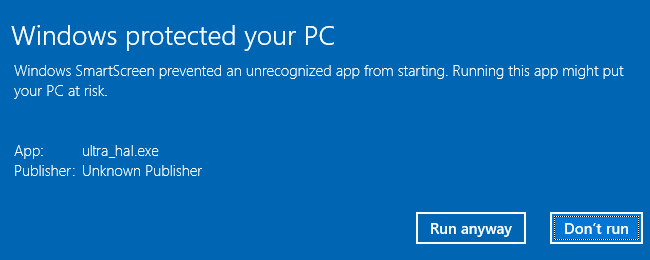 Please click on the "More Info" link and then the "Run anyway" button if available. If the button is not available, you can unlock it by following these steps:
Open File Explorer.
Browse to the folder with the app that you're trying to install.
Double-click the installer.
Close the "Windows protected your PC" dialog.
Right-click the installer and select the Properties option.
Click on the General tap.
Under the "Security" section, check the Unlock option.