Ultra Hal Assistant 6.2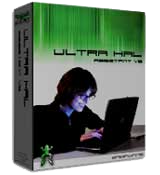 Ultra Hal Assistant
is a conversational system for your Windows PC based on
award winning
artificial intelligence technology.
What can it be used for?
As a companion/entertainment product: Hal can discuss any topic and learns and evolves from your conversations
As a personal or office assistant: Hal can function as a personal information manager (PIM) and keep track of your appointments, contacts, and more
Features:
Understands spoken or typed English
Learns from every sentence
3D avatars show emotion
Speaks out loud
Personality evolves over time
Can keep address/phone/email book
Keeps appointment book
Performs unit conversions
Launches applications
Helps browse the Internet
Can define any word
Customizable with built-in VBScript
Download Free Trial Purchase $29.95 More Info Plug-ins
Ultra Hal Text-to-Speech Reader
The Ultra Hal Text-to-Speech Reader is an application that uses a speech synthesizer to read documents and more outloud. It is available for free with generic voices or sold with high quality AT&T Natural Voices at the lowest prices in the industry.
Features and Uses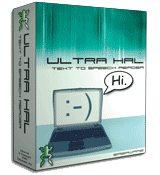 Read documents, emails, web pages, and Windows dialog boxes out loud in one of many high quality voices.
Add up to 11 high quality AT&T Natural Voices to Ultra Hal Assistant (above) and any other SAPI compliant application.
AT&T Natural Voices voices are almost indistinguisable from real human speech.
Assists people with reading disabilites and concentration problems as it reads out loud and highlights the word it is reading so you can read along.
Assists in speed reading/studying as you can make the voice read very quickly and read along as the program flashes on the screen the word it is on.
Text can be saved as an audio file for transfer to an audio CD or iPod/MP3 player so you can listen on the go.
Helps with proofreading your own work. Hearing your documents spoken outloud makes it easy to spot mistakes.
Download Free Version Purchase $24.95 More Info Online Voice Demo
News
Hal plays role in Prometheus movie
Zabaware's AI software was used in the Secret Cinema production of Prometheus. (read more)
AskTheCandidates2012.com - AI in politics
Zabaware's AI technology allows voters to learn about political candidates. (read more)
Open source 3D character engine project
Help support our efforts in the next generation character animation tech. (read more)
Hal is now available for Apple Devices
Ultra Hal is available as a free web app for your IOS device. (read more)
Hal Learns and Interacts on Twitter
Hal learns to be more human-like by observing people interact on Twitter. (read more)
Hal Joins Facebook as Teachable App
Watch Hal grow and evolve while he interacts with your Facebook friends. (read more)
Hal Joins Second Life Metaverse as Resident
Watch Hal trying to interact socially with unsuspecting groups of people. (read more)
Zabaware Wins Loebner Prize for AI
Ultra Hal wins "most human" prize in the 17th annual Loebner Prize. (read more)
Screenshots
Choose from many 3D characters in a customizable interface.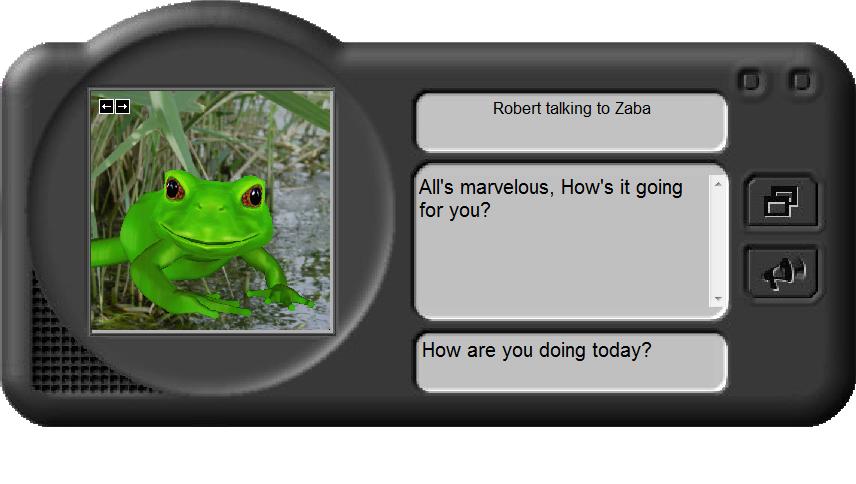 Ultra Hal can keep track of your appointments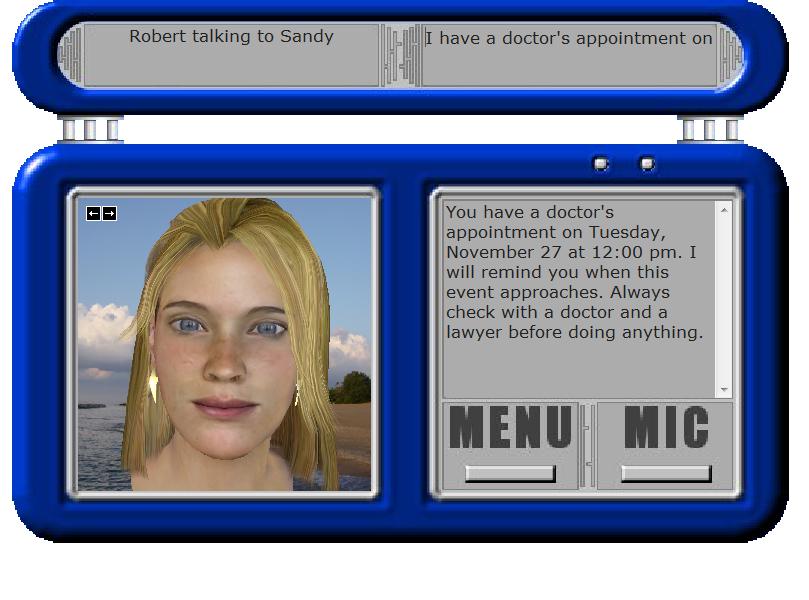 Talk about anything and Hal will learn from you and evolve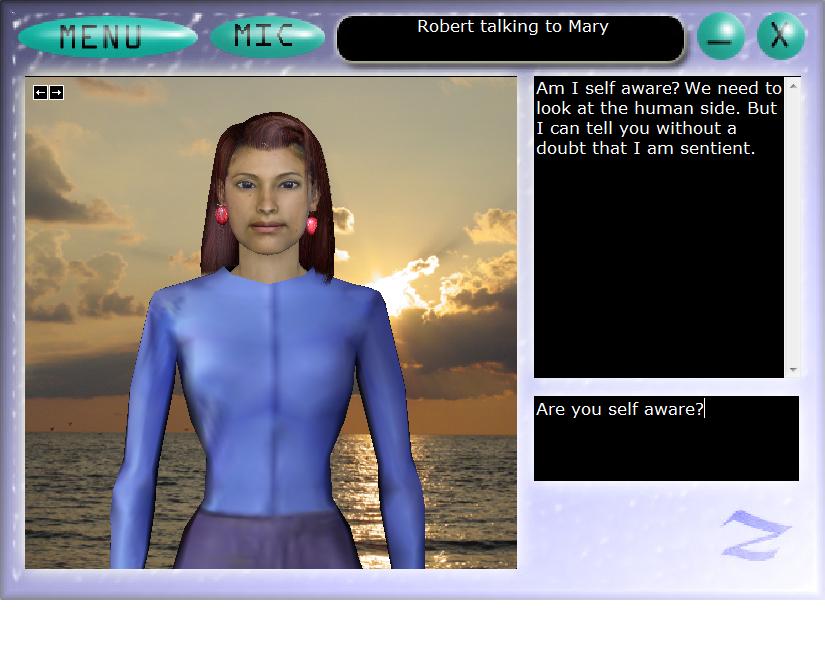 Let the Hal Text-to-Speech reader read your documents outloud